Salome Waist Cinchers are the Best Help on your Gym Sessions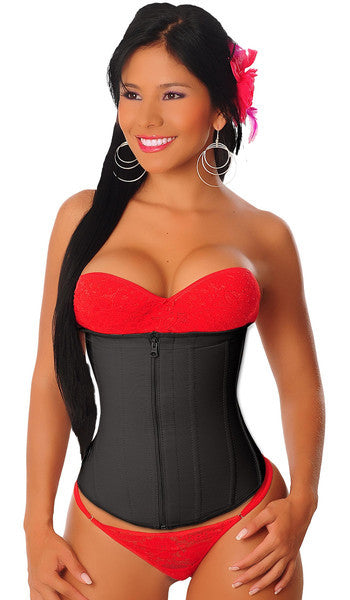 Power Inch Loosing on Hips and Waist with Salome Waist Cinchers 
When you practice any kind of sport, right clothes are one of the essential tools to have an optimal performance and most of all give your best out there, but is always good to have a little extra help to boost sweating and get to have the hourglass waist that makes everyone turn their heads on you.
Interesting Fact
Did you know that Salome Waist Cinchers are the ideal tool to power the sweating on the middle area of your body? Well that is true, your waist and hips are the two areas where fat cells tend to accumulate and liquid retention focus on, which tends to be larger.
Therefore, when using High Compression Fajas you're stimulating the body to produce larger amounts of heat, consequently you'll need to drink more water that will be fuel to produce sweat where your body will release toxins gathered along the day and harmful for the body. Besides the obvious benefits like having clearer skin and less cellulite.
The hypoallergenic condition of this shapewear is ideal for people allergic to some special polymers to be able to enjoy all the benefits of using Salome Body Shaper Garments.
Salome has make sure that the Fajas Colombianas come in several models adaptable to each person needs, and they all have different ways of closure for your girdle to remain in place along the day.
The waist cinchers vest style are ideal for people that practice high impact and intensity training, because the wide straps on the shoulder and the high back of this Compression Fajas allows to shape the hips, waist and to flatten those ugly armpit bulges made by the bra pressure. 
At the same time improve the posture helping lessening back and waist pains, and adding a few inches to your height.
This particular model closes with a zipper allowing to close and keep the pressure on the middle zone to shape hips and waist helping to get the hourglass shape that every woman wants to have.
Giving that they are sleeveless, you are able to move your arms freely while the straps keep the garment in place, enhancing the posture thanks to its resistant structure along and in all of the Fajas and are perfect for a gym session.

Don't prive yourself from using an amazing girdle just because you don't know them.
Remember that the customer service is always willing to help you solve any kind of doubt. Don't hesitate in calling or logging in our live chat.